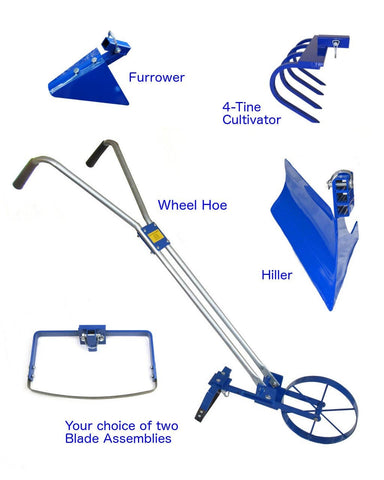 Valley Oak Wheel Hoe Complete Package with Hiller
Choose your 2 blade assembly sizes from above, there are several sizes.
Includes Wheel Hoe with steel wheel, 2 Blade Assemblies, Furrower attachment, 4 Tine Cultivator & Hiller attachment.
The Valley Oak Wheel Hoe quickly knocks out large patches of weeds. This wheeled garden cultivator is ideal for soil cultivating close to delicate plant rows, and it's healthy for the environment. Farm jobs that once took days will take only hours with the help of our wheel hoe and its many attachments.
Save money with this Wheel Hoe package instead of buying attachments separately.
Package includes:
Wheel Hoe with steel wheel
Hiller attachment
Furrower attachment
4 Tine Cultivator attachment
Two Blade Assembly attachments of your choice
(We recommend the 8 inch and 12 inch combination.)
Learn more on the
Wheel Hoe information page
.
I've been using my wheel hoe for a couple of weeks now. This is a great example of American ingenuity and manufacturing. This tool is easy to use and is built to last a lifetime. Great job. -- J Scott Gallawa
Until I found your wheel hoe I was considering scaling down our large garden because it was getting too much to weed anymore. It has made gardening fun again and so much easier. There aren't enough words to say how great of a product you've got. -- Matt Green
The Valley Oak Wheel Hoe is awesome! I purchased mine 2 years ago for my small 2 acre farm. It was a major expense, but it has been worth it. I wouldn't be farming if not for this wheel hoe. It is so phenomenal, durable, and ergonomically well designed that it has reduced my time spent in my garden and made a huge difference. -- John Gage
---
We Also Recommend
---