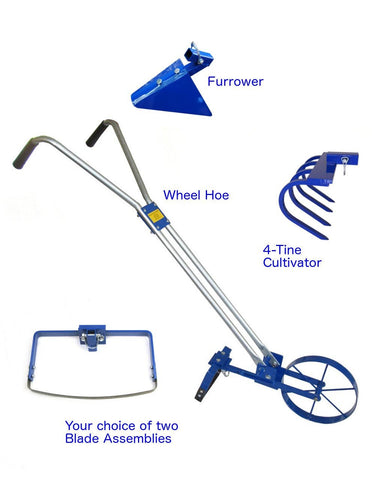 Valley Oak Wheel Hoe Package
Choose your 2 blade assembly sizes from above, there are several sizes.
Quickly cut down weeds and cultivate close to plant rows with the Valley Oak Wheel Hoe. Garden jobs that once took days will take only hours with the help of our wheel hoe and its many attachments.
Save money with this Wheel Hoe package instead of buying attachments separately.
Package includes:
Wheel Hoe with steel wheel
Furrower attachment
4 Tine Cultivator attachment
Two Blade-Assembly attachments of your choice
(We recommend the 8 inch and 12 inch combination.)
Learn more on the Wheel Hoe information page.
I can't begin to tell you how much we love our wheel hoe! Does as well as the rototiller in the gardens and is so much quieter. We tell all who come on our farm tours that this is the tool of choice on our farm. -- Jan Dawson
We used the wheel hoe for many hours this weekend. I wish I had bought one years ago. It has and will continue to greatly simplify how we plant our small plantings of vegetables. -- Dale Willoughby, Willoughby Farm
I have to hand it to you, this thing is quick! I couldn't believe how much less effort I had to use. Much quicker than the 50 year old Ro-Ho and at least 3 times faster than using a Mantis. Even the more compacted areas were no problem since you can cut in both directions. Thanks for a great and useful tool! -- Phil Baughman
---
We Also Recommend
---