News
Posted by David Grau on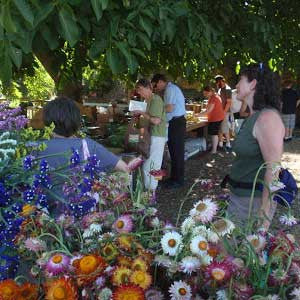 We asked Lee Callender, a farmer at the sustainably-farmed GRUB CSA Farm in Chico, what activities were going on at the farm, and what types of crops they'd be growing for their community this year. He said this patch of warm weather (we've been having warm, sunny days, with cold nights), and the soil draining from (modest) rains will allow them to get the soil tilled and prepared for planting.
---
Posted by David Grau on
In our gardens we're working on pruning our deciduous fruit trees. We're also planting bare root fruit trees, grape vines, strawberries, and berry canes. Using our
Valley Oak Tool Co. broadfork
to loosen the soil makes planting much easier. We're  also keeping an eye on diseases and insect pests.
---