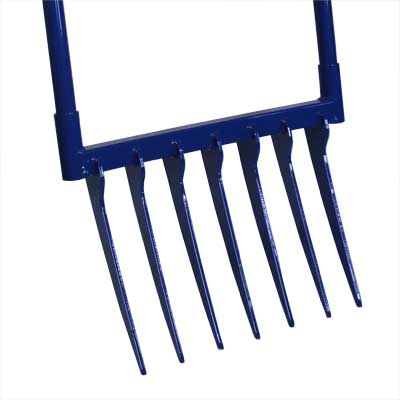 7 Tine Steel Harvest Broadfork (please read description before choosing)
The 7-Tine HARVEST VALLEY OAK BROADFORK

The Valley Oak Tool 7-Tine Harvest Broadfork is designed for harvesting your root crops with a rake like fork or aerating more fine soil. If you intend to till or break up soil, our 5-Tine Broadfork is a better choice because the tines are farther apart. We've reinforced all the areas on our broadfork where other garden forks bend or break. The 48 inch long handles are aircraft quality chromoly steel.
7 Tines used for harvesting and more fine soil aeration.

12 inch long steel tines.
Tines are spaced about 2.75 inches apart.
The 7 tines will dig 17 inches width into soil.
Full width of bar with tines: 20.5 inches.
Broadfork handles about 21.5 inches width of broadfork.

46.5 to 48 inch long handles, About 60 inches total length broadfork.

Weight about 18 lbs.
Made in the USA.
See the Broadfork in action in Broadfork Videos →
Or learn more on the Broadfork Information page →
I used the broadfork all summer long on 8 acres of vegetables. That's how we cultivated. We hardly used a rototiller, only after a crop was done. They are phenomenal tools. I think they're worth every penny. -- Geof Hancock, Community Farm
Just wanted to let you know I got my broadfork yesterday and put it to work immediately. It works great and I love it! No more rototillers for me. Thanks. -- Don Smith, Grosse Pointe Farms, MI
---
We Also Recommend
---